Dear Chase,
Happy 6th birthday! 6 brings us to next phase of parenting, no longer a part of the five and under set! I can tell you how this astonishes me, but if you've read the letters from previous years, you know...each passed year is simply astonishing. I can tell you how it is hard to believe, but the truth is that it is not! Sure, it is bittersweet and yes, it went by fast, REAL FAST, but you are every bit six years old. And, more!
This is the first time that I have written separate letters to you and your brother. I think, in the past, I did one because it was easier. But, you and he, brothers to the core, are also very different boys, and so, it seemed appropriate to write you individual letters, for the individual boys that you are.
Chase, you are mature, smart, social, athletic, committed, and polite. I could go on, listing your qualities, and it would sound like I was bragging. And, perhaps I am. But, really I list them in true amazement because, even I, as your mother, am blown away by some of the
qualities you possess.
You are a friend to all and want every one to be your friend, and your popularity is evident by the greetings you receive. You learn peoples names and address them as such and in return receive respectful greetings from people everywhere.
Back in September you started school as a
Kindergartner
. You and Ryder were, for the first time, separated in the classroom, a decision which proved itself perfect time and again. You were in class with Mrs. Wagner at Richboro Elementary School and the entire year was wonderful. You made new friends (which you insist was EVERYONE in the class) and took to the skills you were being taught with tremendous success. You left the school year able to read words you never even heard of (as proven when you read the word "commencement," then asked me what it meant) and do math quickly and in your head. You are showing signs of being a smart and fantastic student and I am concerned daddy and I may have to pay for an ivy-league school. Yes, that is a good problem to have.
First day of kindergarten Aug 2011
You continue to ask a lot of questions and are constantly re-filling the knowledge bucket you store in your brain. Your vocabulary is enviable, your reading skills admirable,
your thought pattern, impressive.
You love sports. Sports is your thing. You will tackle any and all sports with gusto insisting that you must be the best at any you try. You have a determination and a willingness to practice and succeed that I have never seen before. Not in someone your age.
Soccer is your favorite sport, though this year you fell in love with hockey. I do not know much about hockey (Let's go Flyers!) but I do know that despite your small size and your lack of experience you are VERY GOOD at hockey! I am trying to embrace this ability and help you to have what you need in order to hone in on these skills. You will start a floor hockey league in September and, perhaps, down the road, will begin ice hockey.
You played soccer in two different seasons this year, Fall outdoor and Winter indoor, and in both leagues it was easy to see you are also a very good soccer player. As a result, you will be playing CRUSA ACADEMY TRAVEL starting in the fall and will be committing a large chunk of your six-year old life to this sport you love. At first, I admit it, I was against a 6 year old having such a large commitment. A part of me still is. But, with the potential you have and the desire you have it seemed unfair to not let you play.
This past spring you played baseball for the first time. The experience was fantastic in that you were on a great team, with great boys, and we may have all made some friends from the sport. You are a skilled baseball player as well, but you are not as in love with the sport as you are soccer and hockey. Perhaps, as you get older, and better, and the other kids do as well, you will see the beauty of the Great American Pastime.
The past year was one of the most mild winters I can remember. Aside from an odd snow storm that came on Halloween, we never saw snow again. Except when we went to the Poconos and we took you skiing for the first time. This was an experience you say you enjoyed, though it was hard to tell from the window in the lodge where we watched you from.
We watched the best team in baseball, the Phillies, win 102 games, only to collapse in the play-offs and get knocked out of the NLDS. We watched the Flyers do something similar, and we watched as the Eagles, who were claimed a "dream team" pre-season, have an extremely disappointing season. This, Chase, should be a lesson to you. The sports fan that you are, the boy that watches Sports Center and NHL network religiously, needs to be aware that Philadelphia sports, more often than not, will let you down!
Although you are mostly an athlete, you are pretty well rounded and spent the better part of the year taking piano lessons. At the end of the school year you participated in your first recital. You did an amazing job and were really proud of yourself, as we were of you!!
Your 6th birthday was celebrated with our traditional hibachi dinner on Friday night. On Saturday, your actual birthday, we had the Seltzers, Oren, and the Cohen's over to swim and play and enjoy. We then followed that up with a birthday party of 25 kids. Your theme was the Flyers (your brother's Ben 10 Alien) and the cakes and the color scheme reflected such.
The Great Holtzie
had you and your friends absolutely cracking up. After, we enjoyed pizza and cupcakes and a visit from the ice cream man. I think everyone had a blast.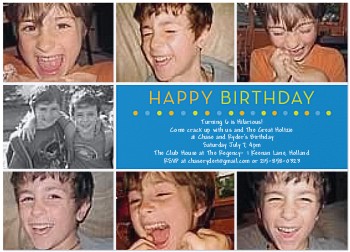 Chase and Ryder's 6th birthday invitation
This summer you are back at Briarwood where you are enjoying every second. You love to swim, have passed the deep water test, and have fallen in love with the game of Ga-Ga. You enjoy swimming in our pool, as well, and can swim in the deep end, jump in and are learning to dive.
Last year was one of the worst years that daddy and I have been through. We had a lot of bad luck on top of some poor decisions. But we clawed through. And, make no mistake, you and your brothers were the bait we needed to get us through some tougher times. Your laughs, your smiles, your good-hearted ways, reminded us daily that life is all about what is right in front of us. Thank you for that, son!
I couldn't be more proud of the boy that you are and the boy you are becoming and I wear the badge of "mommy" with sheer delight, (though you mostly call me just "mom".) I never doubt for a moment the successes you will have in your life and I will always be by your side no matter what path you choose.
Happy birthday my dear boy. I love you so!!